iData has been dedicated to PDA industry for years with multiple product series. Now we are combining the field-proven advantages of PDA with the innovation of tablet series. Here comes the tablet debut, iData P1.
Featuring a large screen of 10.1-inch, ultra-thin thickness 14.9 mm, iData P1 is the latest rugged industrial tablet of high performance and high expansion. It supports the expansion of external accessories on the back, bottom and right side. It can be used in fixed or mobile ways, and widely applied to store management, warehouse management, production management, equipment inspection and other scenarios, providing users with an unparalleled customized device.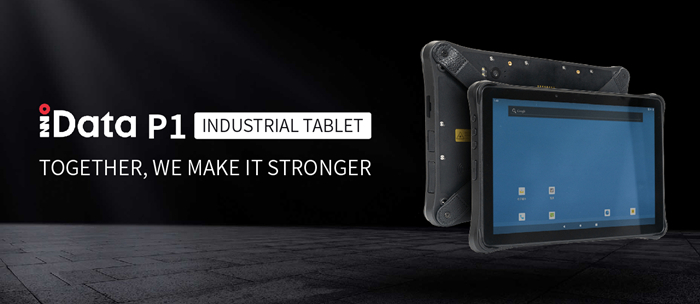 Industry Leading Configuration for Unmatched Performance
Equipped with octa-core 2.0 GHz CPU and the leading Android 11.0, the performance of P1 has been refined significantly to work smoother.
The standard 64GB(ROM) and 4GB(RAM) memory enable P1 to operate under multitasking condition without delay. The DDR4 memory with high frequency, can work with CPU to act more swiftly in multitasking environment.
With self-developed scanning engine, P1 has tripled its deciphering performance than cameras. It scans both one/two dimensions codes, easily captures all kinds hard-to-read codes including cured, wrinkled, damaged and dirty codes. Besides, it supports functions such as multiple code scanning, accurate decoding, continuous scanning, which speed up the processes in inventory, warehousing and shipping, quality inspecting.
Refined by the 2.4G+5G dual-band Wi-Fi, P1 features fast roaming and a quicker network. Even you need to move around in a large area while working, the device doesn't delay at all when switching the AP.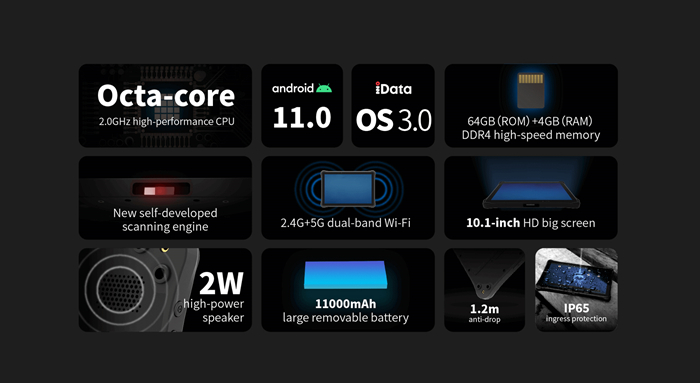 Ultra-thin Big Screen for a better user experience
Only 14.9mm in thickness, P1, with this ultra-thin housing, enables you to take it to everywhere to work. It can be also mounted on a cradle easily, and detached within seconds.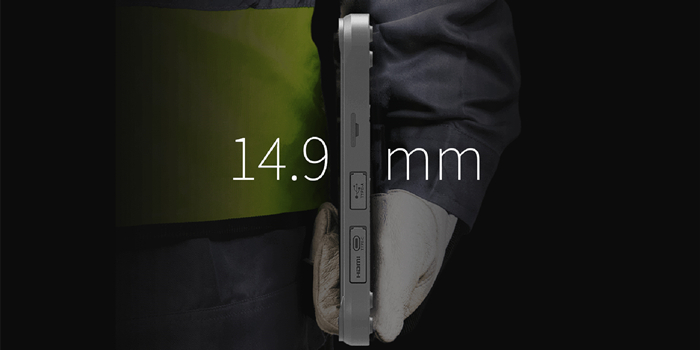 P1 has a 10.1-inch HD big screen, with resolution 1920*1200, you can view all data sheets and graphs, and conduct multitasking within the same page effortlessly.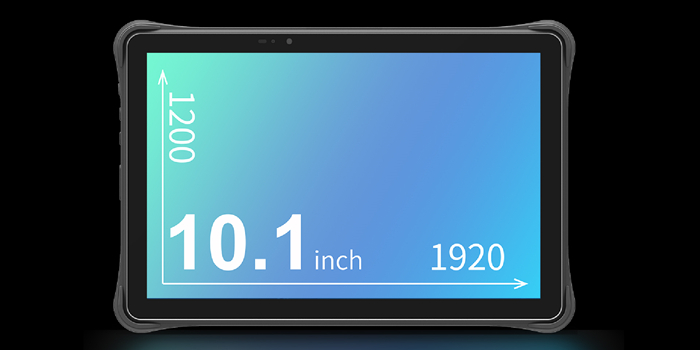 In terms of the prompt tone, P1 has a 2W powerful speaker to tackle the noisy environment. It offers a clearer tone including scanning notifications, operation feedback, and voice communication.
Various extension options for different scenarios
Designed to be multipurpose, P1 has various extendable interfaces including bottom 8-pin port; Rear 16-pin port, NFC, USB on right side, Micro HDMI, Type-C.
The SD extension slot also supports 512GB options, so as to satisfy the users who require a large memory to save data or install applications.
A charging dock can be added at the 8-pin port on bottom. Then you can mount or charge the device by this dock. With the USB or Type-C port nearby, the device can be used as a car fixed tablet for routine planning. Furthermore, you can connect the device to a multipurpose base, for charging or Ethernet service so that the device can be applied to a store as the cashier or ordering system.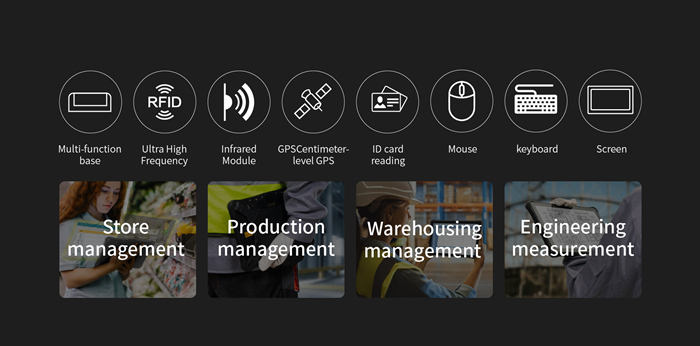 The rear 16-pin port can be connected with an UHF module so that it can scan RFID labels of inventory in apparel industry.
The Micro HDMI on right side can be connected to a big screen. It can be used to do presentation or queue information notice, etc.
P1 can also develop an infrared module to work as an infrared meter reading tool. Besides, a built-in centimeter-class accurate locating module can be designed to work in high precision professional scenarios such as engineering surveying and mapping, railway inspection, agriculture and forest operation, etc.
Rugged device for a better experience
Built to survive harsh working environment, P1 has IP65 protection level, and survives drops to concrete at 1.2 meters. User can scan confidently with this durable device.
In terms of battery life, 10000mAh detachable battery was built to provide two full shifts power, which is up to 14 hours or more. It also has a 1000mAh backup power to survive device power off due to accident drops. What's more, there's no need to switch off the device during battery replacement which is so convenient.
Applications
iData P1 has been widely used for various retail purposes, including store management, inventory management, mobile cashier, etc. It can be also used for warehousing scenarios, such as warehousing management, warehousing and shipping management, routine planning, goods tracing. In addition, it's suitable for manufacturing cases, including production management, quality test, safety test, compliance verification. Besides, P1 can be also applied to fixed asset inventory, equipment inspecting, water/electricity/gas meter reading, mobile enforcement, etc.